Modern Wood Patio Chair Tutorial
These modern outdoor chairs were so easy and fun to build! Create these trendy chairs with only (4) 2×6's, (3) 2×4's, and (1) 2×2!
I was going to attempt making a sectional at first, then decided that starting with a chair was a better idea 🙂 this was fairly simple. I used Anna White plans but adapted them for smaller cushions and a taller back. I'm still not sold on making a sectional, but I made another chair to match this.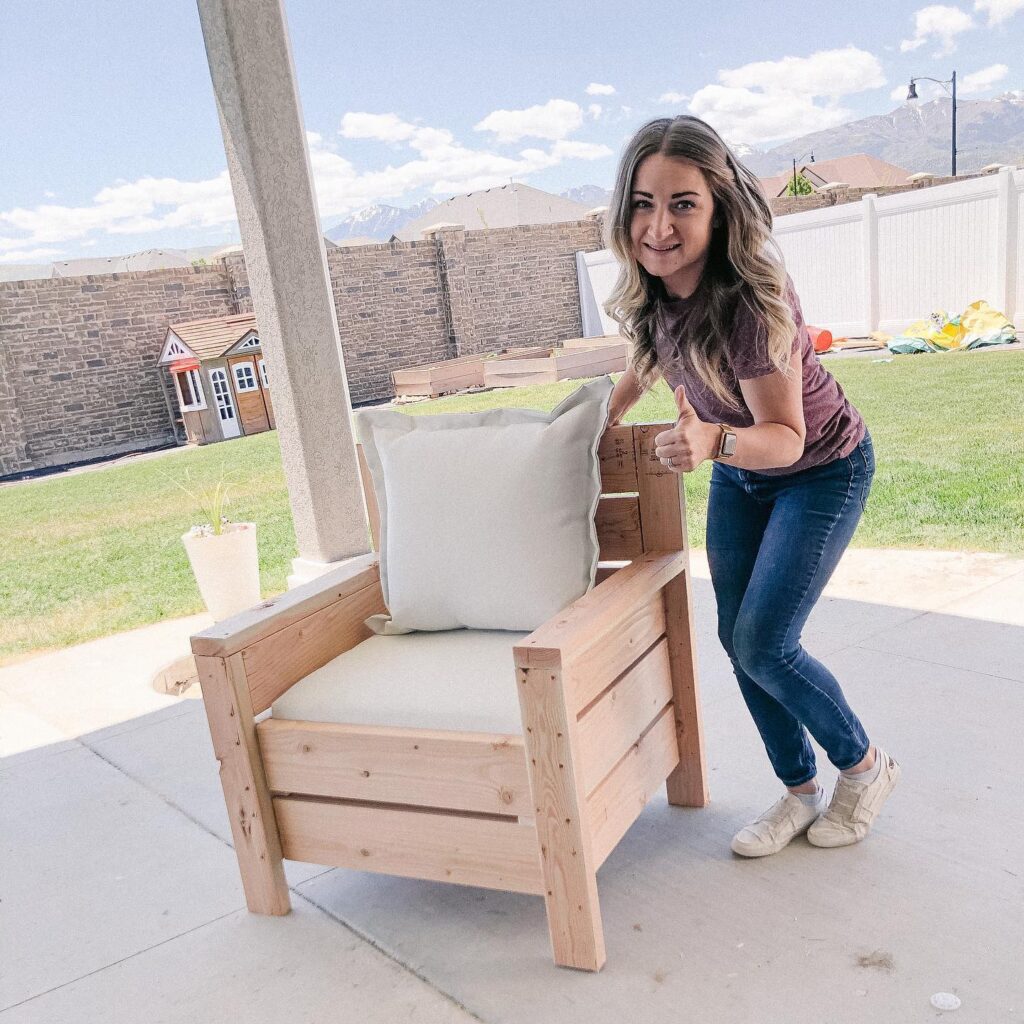 Supplies Needed:
(1) 24 in. x 24 in. cushion and and pillow for backrest
(3) 2x4x8
(1) 2x2x8
Miter saw or handheld circular saw
Cut list:
Front + back slats: (7) 2×6 @ 24"
Arm rests: (2) 2×4 @ 25 1/4
Side slats (6) 2×6 @ 24"
Front legs: (2) 2×4 @ 22 1/4"
Back legs: (2) 2×4 @ 34"
Seat slats: (5) 2×4 @ 24"
Inside cleat: (2) 2×2 @ 24"
I cut and labeled (with a pencil) each piece with a miter saw. A circular saw will also work. Make sure to cut your wood nice and straight.
Drill two pocket holes into each of the back slats and screw them to the back legs using a scrap 1×3/4″ to space them out.
Add the top armrest piece for both sides. Having two people is ideal for this step but if not you can thread a board between slats to support the back boards while you attach.
Refer to https://www.ana-white.com/woodworking-projects/modern-outdoor-chair-2x4s-and-2x6s for detailed photos.
Once the arms are attached to the back and front pieces, two cleats are screwed to the insides of the arms, and seat slats rest on top.
Don't forget to stain and finish off with a polyurethane coat!
And Wahla!
These turned out to be so functional, sturdy!