How to Make a Spooky Halloween Town
Usually, I'm the one tackling major projects, like this Pantry Makeover, or this Laundry Room Overhaul. However, I recently had surgery, and the doctor told me to take a break from heavy lifting and climbing on ladders for a little while. You know me… I cannot sit still for long, so I found a project that I could do while sitting down.
To do this project, all you need is a few crafting supplies, time, patience, and a little imagination.
Supplies I Used:
Wood Bird Houses
Acrylic Paint
Paint brushes
Glue (I used a glue gun)
And any other mini decorations you want.
This project is all about what YOU want, and YOU like. Let your creativity flow.
The most time-consuming part of this project was painting the houses. However, once the houses received their fresh coats of paint, the real fun began. Adding all those tiny decorations turned out to be an absolute blast. I decided that when working on these miniature houses you need to get creative!
Some of the tiny decorations I made with supplies I already had, and others I bought. Here are some of the things I used.
Aren't they so darn cute! What it is about tiny things that makes them so cute?
I needed one more thing to finish off the set and found this sign. (similar one linked). Everything was perfect about it, except the colors, so of course I just painted it.
I think it was the perfect final touch to the Halloween Village. What do you think?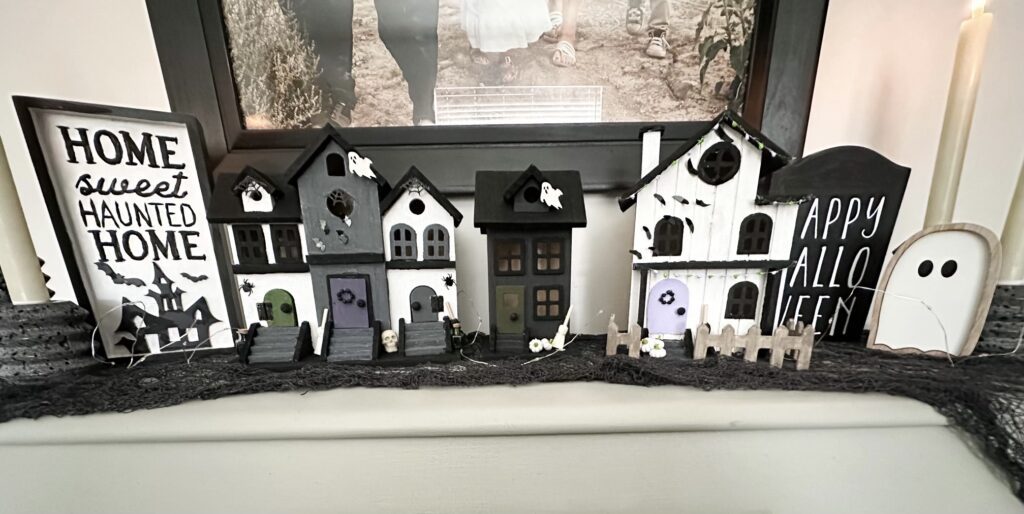 Follow along for more DIY's and fun at…