Creativity for Kids: 7 Exciting Games with Painter's Tape
What is one thing every DIYer has on hand at all times? Painter's tape! What is one thing every DIYer with kids struggles with? Keeping kids entertained while we DIY. So I give you to, some fun ways to keep your kids entertained with painter's tape. My kids love these games, and I hope your kids do too!
Painter's Tape Target
Place different size targets around the house and have the kids try to throw bean bags, sticky hands, rolled up socks, stuffed animals, anything small and soft at the targets.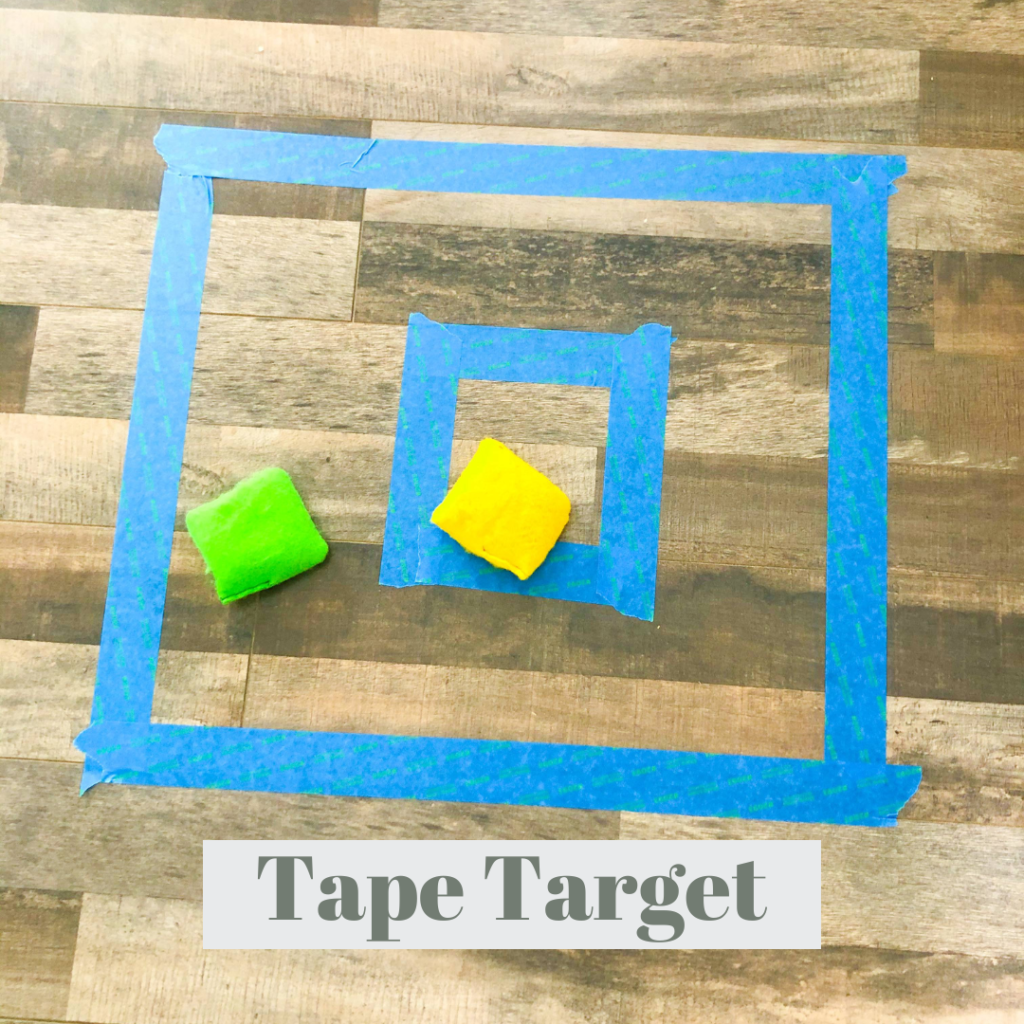 Obstacle Course
Get as big or as little and as creative as you want on this one! Tape out zig zag lines, straight lines, squiggly lines, squares, hop scotch, etc. Anything you can think of. Then have the kids follow the obstacles from start to finish.
Race Track
This one is so easy and allows your kids to use their imagination. Tape lines all over, making sure they all connect in some way. Give your kids a few cars and blocks and let them make a race track/ road. Get even more creative and tape out "buildings". Its like one of these mats, but with tape!
Painter's Tape Stencils
Are you working on an outdoors project? This is a great one to keep them entertained outside. Tape out a bunch of shapes and have them color them in with chalk. Make sure they fill them in completely (which will take longer). Once the shapes are colored, they remove the tape and find a perfect shape!
Toy Rescue
Tape a bunch of toys on the wall with the tape and have them rescue their toys. Have them challenge each other. Who can tape them on the fastest? Highest? How fast can you take them off? See how many you can tape on the wall.
Painter's Tape Spider Web
Make a spider web in a door way. See how many of their toys the can get to stick on the tape. Have them see if they can get through the web without getting stuck.
Toy Line up
This one takes the prize for being the easiest for you, but will still keep the kids entertained for a while! Simply put a tape line as long as you want it, and see how many toys they can line up on it.
Ok, so maybe you want to get the cheapest tape to use for these activities or Scotch Tape… Let's not use the coveted Frog Tape to play with… You can even up your game and get this tape, and you will for sure be the coolest parent. What other ideas do you have to keep your kids entertained with TAPE?
Follow along for more DIY's and fun at…